Introduction of bricking machine in rotary kiln for refractory construction
Keywords: bricking machine
Introduction of bricking machine in rotary kiln for refractory construction
Rotary kiln bricking machine is composed of a frame, a guild rail, arch supported bracket, lifting supporting block, pneumatic hydraulic pump, jack, etc.
Working principle
1, the machine is compressed air as the power, work compressed air through the three conjoined oil-water separator components and each cylinder lift control switch into each cylinder, so that the lifting block to complete the ejection and return action.
2, the machine is equipped with air pressure holding device, when the gas suddenly stopped, the gas pressure in the system does not decline in a short time.
The advantages of kiln brick lining machine
1, improve work efficiency, reduce maintenance time, improve economic efficiency, the horizontal rotary kiln with the masonry of refractory brick, its efficiency is not less than 1 meters per hour (as proficiency) in building process that without rotating the kiln body, and complete the masonry, but also on other parts for maintenance without interference, so the kiln repair time is greatly shortened, its economic benefit is very considerable. 鍐呭鏉ヨ嚜 uwa
2, more security work
Because the machine is built, its masonry surface is completed once the kiln is not rotated. This also eliminates the hidden dangers of accidents and reduces the possibility of accidents.
3, reduce labor intensity
The traditional method of building kiln, rotary kiln body often need to screw the top bar. With brick laying machine,the operator stands on the upper board of the frame, and only takes the brick and the operation switch, so all of the above manual labor is removed, and the labor intensity of the operator is greatly reduced.
4, the masonry surface is smooth
Because the traditional method is to use the top bar, the pressure is not possible even on every brick, may be some on tight, some loose. But the brick inline machine is different, because of the pressure of each cylinder of the equilibrium, so the top output is the same, the top of the brick wall is close to the same degree of kiln the same.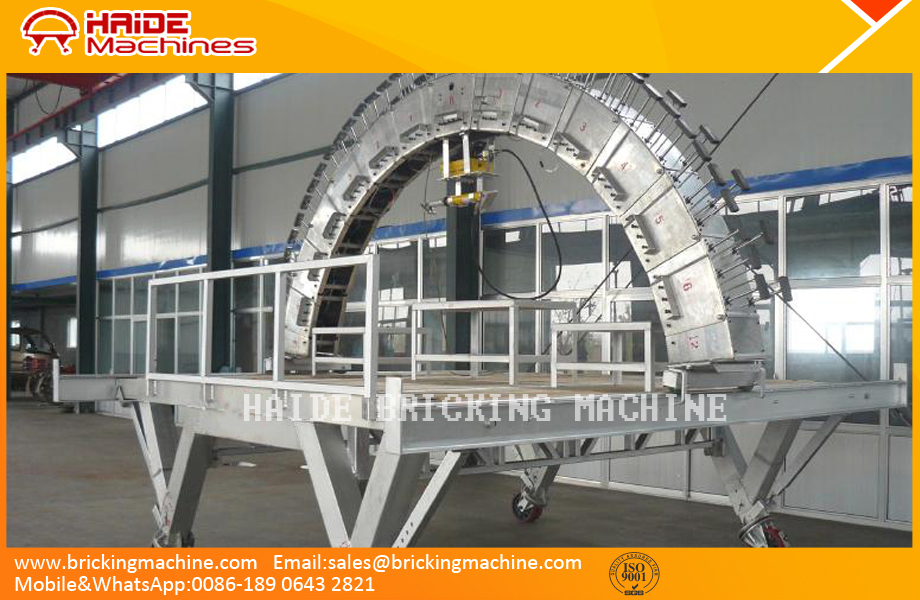 鏈枃鏉ヨ嚜濡傛柉
Haide Machine Co.,Ltd.
Professional manufacturer of Bricking Rig / Brick Lining Machine for Rotary Kiln Cement factory refractory construction
URL: www.brickingmachine.com
Email: sales@brickingmachine.com
Mob/WhatsApp: +86 189 0643 2821