How to make brick masonry on the top of the rotary kiln by brick laying machine
Keywords: brick lining machine
How to make brick masonry on the top of the rotary kiln by brick laying machine
After the rotary kiln firebrick, it must prepare for refractory brick masonry on the upper half of the rotary kiln, kiln brick lining machine assembled in rotary kiln. This part of the pile is more troublesome. In the process of top bricklaying, it must pay special attention to the following questions, which is directly related to the smooth operation of the rotary kiln.
(1)it is divided into 3 sections bricklaying, namely two sides and top area- -3 regions of brick laying machine.
(2) put two bricks on both sides of the bricking machine area, open bricking machine cylinder switch, the two brick top up, and check whether the two bricks in the ring is aligned or not, whether refractory brick and rotary kiln body's surface is tight or not, or adjust the operation by the bottom of the method.
(3) once 2 pieces refractory brick top up, along the circumferential direction of bricklaying work, hammer hard hit to make bricks are in contact with each other closely. 内容来自 uwa
(4) begin overlocking operation when remaining 2 ~ 3 pieces of brick space gradually building on both sides of brick lining machine, according to the size of the remaining space, top tight both sides bricks by hydraulic jacks, the hydraulic pump outlet pressure is set to 30MP.
(5) lock hydraulic jack for pressing process with large hammer for pressing sliding brick, hydraulic pump set pressure reached 30MP. After 5 seconds, the piston master switch of the ring is closed, then the piston master switch is switched on, and then the ring refractory brick rises up.
(6) take off the hydraulic pump, hydraulic cylinder, ready to lock.
(7) according to the key space and the lock brick size combination table to select combination lock brick.
Lock brick according to the following principles: thin lock brick shall not be used. Taper small brick as far as possible not to be used together.
Adjustable seam iron can use 2 pieces in each brick joint.
(8) joint brick after the adjustment, the use of iron can be made up. asthis.net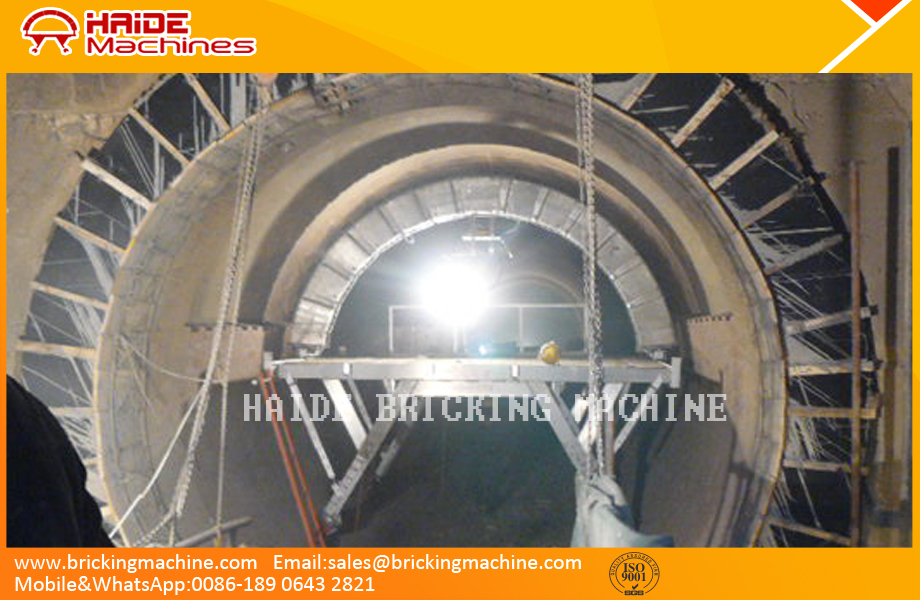 HAIDE offers the Bricking Machine for variable diameter & no changed diameter rotary kiln. Just offer us the Kiln net diameter & refractory brick size, we will offer you the professional & favorite machine for your project!
Haide Machine Co.,Ltd.
Professional manufacturer of Bricking Rig / Brick Lining Machine for Rotary Kiln Cement factory refractory construction
URL: www.brickingmachine.com
Email: sales@brickingmachine.com
Mob/WhatsApp: +86 189 0643 2821 本文来自如斯